Welcome
Neighborhood Jobs
Learn how you can earn money without ever leaving the neighborhood.
With school officially out for the summer, it's a good chance for you to pocket some extra cash to buy that new video game or bike you've been saving up for! Starting your own business in the neighborhood is a great way to make some money when you can't get a real job yet. Mowing, babysitting, dog walking, and car washing are all great options.
But some of those have costs associated with them. You're going to need to take those costs into account when you are starting a business in your neighborhood. Let's break it down to find something that best suits you.
Mowing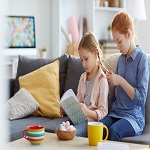 Potential income: $10–$40 per yard depending on size.
Costs: This is probably the highest upfront cost unless you can borrow your family's mower or use your customers' mowers. Then you have gas and maintenance. So let's break down some costs:
Mower: $150 for an electric mower and up to $430 for a gas mower.

Gas: $2–$3 a gallon or about $10–$30 a week depending on how busy you are.

Maintenance: $20–40 a season.
If you already have access to a mower, it can be an inexpensive business to get into, but if you have to buy one, you might spend most of the summer paying it off.
Babysitting
Potential income: $17–$20 an hour for one child. A dollar more per extra child.
Costs: The costs associated depend on how prepared you want to be. The Red Cross offers babysitting and childcare certifications. They also offer first aid and CPR certifications. The advantage of these certifications is that you can charge more for your services.
Red Cross Babysitting class: $45

Red Cross Child and Infant CPR/first aid: $35
There are more advanced classes that cost more. A few weekends of babysitting should cover the costs. Remember you don't need the certifications to start, but you'll get more work if you have them.
Dog walker
Potential income: $15-$20 per walk or $30-$50 per day if you're watching a pet while the owners are out of town.
Costs: Taking care of neighbors' pets might have the lowest bar for entry. There aren't really any certifications you need to walk a pet.
Those are prices you can charge if your neighbors need a dog walker. If you charge less, there is a chance they could hire you just to make their life easier.
Car washing
Potential income: $20–$50 depending on how deep of a clean you give it.
Costs: More than likely you're going to need your own products to offer at-home car washes. Not all of the gear is needed at the start, but you can improve your set-up as you go.
Basic cleaning kit: $25–$50

Foam gun: $25

Quality drying chamois/towels: $10–20

Bucket: $5–$10
You can probably up your prices once you develop a strong group of clients. If you show you do a really good job, you can attract people with very nice cars and they will pay a premium! And you get to check out some really cool cars.
So print out some flyers, stick them on neighbors' doors, and see how much summer money you can make!